Hyundai Service FAQs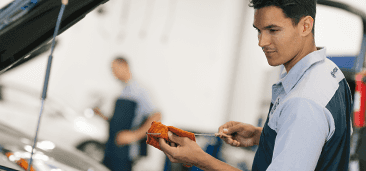 If you've begun to experience issues or abnormalities with your vehicle, it might be a good idea to stop by our dealership to for a Hyundai service appointment. Cars are incredibly complex machines, so it can be difficult to tell exactly what the issue is unless you're an expert — and this is where our factory-trained technicians come in. Here at Kearny Mesa Hyundai, we understand how stressful car service can be, so we created this quick list of questions and answers to help you out.
How Often Do I Need Oil Changes?
The rate at which you'll need to stop in for an oil change depends on a few different factors like how often you drive and how old your car is. We recommend stopping in for an oil change at least once every six months or 3,000 to 5,000 miles.
What Services Can I Complete at the Tire Center?
At our Hyundai Authorized Tire Center, we can help you pick out brand-new tires or help you with tire rotation. Over time, your tires and wheels are put under a great deal of stress, and they need to be rotated so the wear can be evenly spread throughout.
What Does The "Check Engine" Light Indicate?
If you notice that the "check engine" light has turned on inside your Hyundai vehicle, the best thing to do is visit our service center. This light can be the sign of a number of issues ranging from simple problems like a loose gas cap to more serious issues with your emission or ignition.
How Do I Schedule Service?
Feel free to call us or fill out our online service form for a quick response. You can select a preferred date, time, and fill out the required vehicle info for faster service when you arrive.
Do You Have Any Service Specials?
Check out our current Hyundai specials section on our website to see if the service you need is included. We often offer ways for you to bundle multiple service tasks and save money while doing so.
Visit Kearny Mesa Hyundai for Service
If you're concerned about the daily performance of your vehicle or simply want to better inform yourself about car service and maintenance, come to our Hyundai dealership in San Diego, CA, today. Once you're here, we'll walk you through the entire service process so you can leave feeling confident.